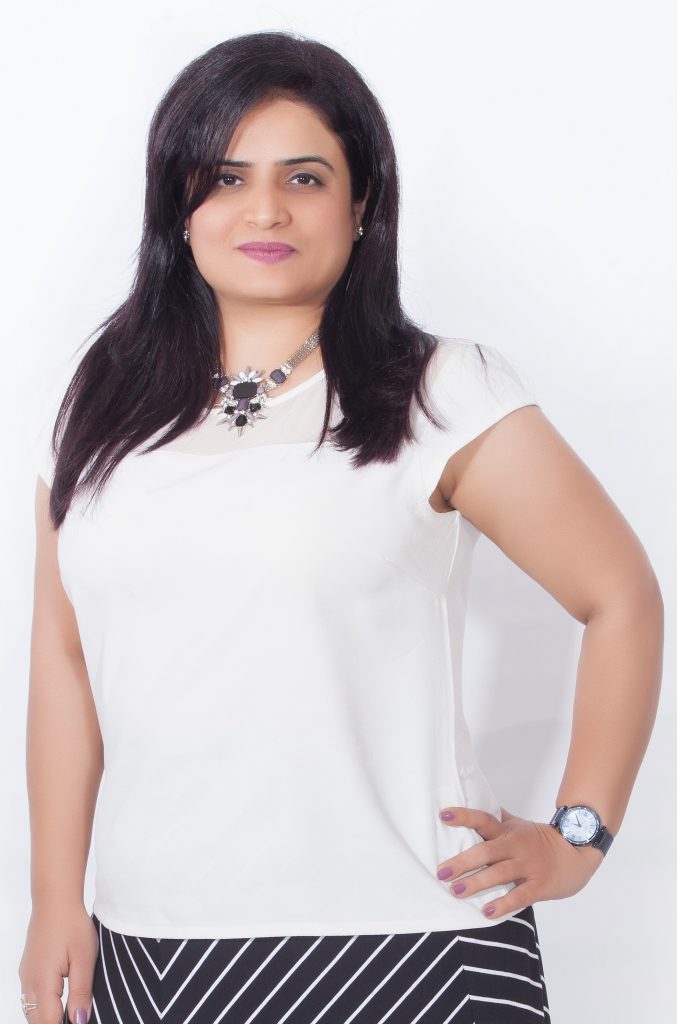 Vrutika Dawda is a Director at IdeateLabs, a digital marketing agency that is committed to creating path-breaking strategies and creative solutions for brands. Vrutika is actively involved in the company's Corporate Affairs, Corporate Finance, Legal and Compliance among others, while she also looks after the overall business operations. She is a self-driven, growth-oriented professional-turned-intrapreneur with an ability to turn challenges into opportunities. Her ability to achieve beyond what is imagined possible is the defining force in her leadership.
Vrutika joined IdeateLabs as a Finance Manager. Her ability to over-perform instantly gave her the competitive edge to become a game changer. In a short span of 6 years, by 2015, she was promoted to join the board of the company. Thus, began her entrepreneurial journey. Being a business partner coupled with her rich corporate experience of 15 years, she is proficient in all aspects of building and running a business.
With a deep-rooted interest in numbers, she began her professional journey as a math professor for various private coaching classes post which she made a career shift into the finance industry.
Before her stint with IdeateLabs, Vrutika worked at Reliance Infocomm and was responsible for automating and setting up internal processes for procurement of Broadband Products and Services. At GroupM, Vrutika was the core team member for the Specialist Units (all non-print) and was the lead in setting up the Commercial and MIS processes, as well as automating multiple functions that were traditionally manually driven.
Vrutika holds an MBA degree from Symbiosis with a double specialization in Finance and Operations and has completed her IPCC from ICAI.
Her Journey:
It is no strange occurrence that life finds you at a precarious and yet exciting perch where the sum of your actions so far in life seem to fall into place, as you look back at what has passed. Vrutika feels much the same way. She finds herself at a position which she has come by without design, but definitely by choice. The result, that is her current position as Director at IdeateLabs, is a function of the choice she made in life. The choice of not sitting on the fence and watching life aimlessly pull by, but to act.
When looking back at the road she has traversed, she finds that the choice to act, which is second nature to her, dates back to even the times when she wasn't a cog, albeit a large one, in the corporate wheel.
Even during her formative years, she was faced with the ailment that her father suffered and which put an immediate question mark on the future of her family's welfare, prosperity and the abilities of her sister and herself to eke out a decent livelihood. Her ability to sense purpose and to promptly act on it has helped her immensely in life and career. She realised early on that without hard work, she would not be able to steer her family's destiny towards fortitude. Her belief stemmed from those famous words that form the nectarised message of the Bhagavadgita:
"Your dominion is action alone, for their fruits are Mine to give!"
Her learnings early on in life, as a teacher and mathematics coach helped her with imbuing skills she would bring to bear at the workplace, much later in life. In the immediate environment, it quickly showed her how to deal with people in groups and how to extract the very best out of them, a fact that she still feels was a big fillip to her self-confidence in those days. Her students, going on to succeed at various competitive examinations, became fuel for her esteem, and all of this was happening as she was wading through college life herself. She managed to finish her Post Graduation and she also ensured that her sister went on to complete her Chartered Accountancy.
She carried this very same grit and resourcefulness into active work-life, which began in earnest after college with a small profile, where she spent her time understanding 'the system' better. Soon, shifting to Reliance Infocomm's back-end services management team, given her abilities to pre-empt needs that arise within the operative functions of a team, she slowly became indispensable as a process champion in the organization. Every single problem she foresaw arriving to her team, she would set a process in motion to address, that too, well in advance.
She carried this same work ethic to GroupM next, where she helped set up the commercial division for their non-traditional media– BroadMind. Her abilities to spot opportunity and firm belief that God is in the details, helped her for the next three years to set up and run a robust commercial practice. She would always, and still does her short and long-term goal setting, with the leeway to fine-tune course as the future gets charted. Getting the right people to give a nod to these requirements was also never a stumbling block for long, as she persevered with the decision-making stakeholders to ensure the process was set with all the formats, policies and team structures, aligned to get the job done.
All of these learnings weren't enough to prepare her for her next assignment at IdeateLabs. She joined the young and upcoming digital firm at a time when it was seeing a record high with 300% growth over the previous year. She had joined as a manager and soon enough, she started making a considerable difference to the company's operations, fixing the chinks in the armour as well as streamlining the Commercial Finance function in totality. Along came the debilitating recession of 2008, and all the rotting undergrowth she had started spotting, soon started to get exposed. As the repercussions of recession started to result in stymied business and reduced cash-flows, the environment posed multiple unforeseen problems and newer challenges started getting unraveled. Vrutika was in the thick of the action as she started contributing across the entire business structure and taking up responsibilities across various other Corporate Functions apart from Finance, which she took up without skipping a beat.
Now she was suddenly looking into corporate affairs, legal, human resources and even the humble admin department. Adversity returned as a tutor, both for her and IdeateLabs, sweeping away the riff-raff and leaving behind a somewhat smarting, yet leaner and hungry organization that had to rebuild pretty much from the ground up. This she shouldered ably along with the management and helped the agency rise again like a Phoenix from the ashes.
When looking back, the various tribulations she has undergone have prepared her for the next level of challenges. She has now donned the mantle of stakeholder within the organization and ably plays the role of first mate and marshal. With her unerring gaze she has helped rebuild the agency practice that is IdeateLabs today – a 'digital-first' creative organization. Other practices are being developed and put into play to cover other myriad ancillary functions of a full-service digital communications firm. Insite Digital, the media trading desk, Vertuals, the film and content production arm, and iCogz and Reputome, the CRM & Social Monitoring tools in-house, apart from the many other businesses that the group is diversifying into, are all ably tucked under her wing.
Ideologically, this has brought a different set of responsibilities to her platter. Her mentoring days have come back to her aid as a 125-odd strong organization looks at her for strength and succor. She is constantly challenged with finding newer ways to help the entire organization grow and gain the strengths of a self-sufficient network. In order to reach this goal, the task of getting able-minded people on board is also a challenge that she manages whilst looking for sources of inspiration that behove her stature in the organization and the expectations of her, in the eyes of its people. To this end she believes that we all have the requisite sentience within us and our logic shall pave the way to the future. Just the way her idols, Indra Nooyi and Chanda Kochchar have been able to steer their careers and organizations in a world where it was felt that such positions were the realms of men alone.
About IdeateLabs:
IdeateLabs is a full service,independently owned,digital marketing shop that specializes in strategy, design and experience. Team Ideate personifies a unique combination of Data, Intuition and Creativity, blending Science with Art; and hence the name of the Company. Its client's range from some of the biggest brands to innovative startups. With over a decade behind the company, IdeateLabs is a leading Digital Communication Company, helping clients innovate in a digital first world.
The Company, founded in 2007, headquartered in Mumbai (Name changed post acquisition of WebPercept from Percept Ltd.) with offices in Delhi and Dubai. The Company is on an expansion path, and is currently opening offices across India and the GCC.
Team Ideate is led by Mr. Amit Tripathi, a veteran in the Digital Marketing industry with over 20 years behind him. The team of more than a 100 people is led by a group of Business Heads, each of who is an independent SBU Owner, driving it with complete autonomy. The teams offer and deliver all solutions from strategy to execution, from audit to implementation.
IdeateLabs is rapidly transforming itself from a pure play Services Company to Products as a Service Company. It has developed proprietary tools and softwares in the space of Brand Monitoring (Reputome) as well as Analytics and Campaign Management (iCogz). Both the products are being commercially marketed by the Company; and the team has aggressive plans to grow them in India and abroad. The Company offers these as licensed products as well as managed services, linking remuneration to performance across all business domains.
Services: 
Digital Strategy & Innovation, Brand Strategy, Digital Marketing Strategy, Content Strategy, Consulting, Digital Marketing, Advertising Campaigns, Content Marketing, Research, Search Engine Optimization, Social Media Marketing, Marketing Automation, Analytics & Reporting, Branding, Creative Direction, User Experience Design, Interface Design, Mobile Application Design, Print & Packaging Design,  Websites Development, Web Applications, Content Management Systems, E-commerce, Customer Relationship Management Systems, Mobile Applications.