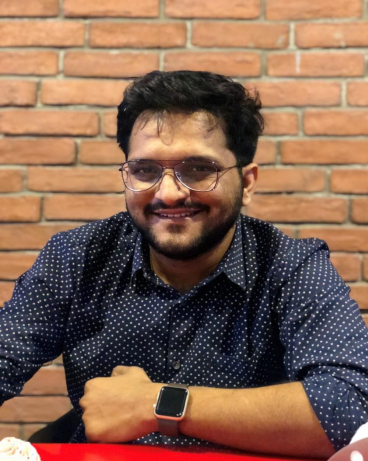 How was your journey from Mehemdavad to Ahmedabad? What is the difference you see in the way Mehemdavad operates or the way Ahmedabad functions?
Larger the Dream, more the people you need to fulfil it. Ahmedabad is growing, at an amazing rapidly pace. Mehemdavad of course had its own lifestyle, but Ahmedabad just makes me feel more home.
What were you doing before becoming an Entrepreneur?
Before becoming an Entrepreneur I was working with a Product based Mobile App & Web development company by the name Sabse Technologies Pvt Ltd (Sabse Bolo , Jaxtr) for approximately 2.5 years.The company at that points was by Sabir Bhatiya – The owner of Hotmail.com. Then i worked for 1 year and 2 months at Spaceo technologies. Those 3.75 years in total were full of learning and experience worthy.
Why did you become an Entrepreneur?
I was born to a Bania Gujarati Family. My Father runs a small wholesale store for farm products. My Elder uncle used to work with him. And seeing them run their business was always in inspiring moment. Hence long back, may be during my school days I used to envision myself as being an entrepreneur. I did not know what will I eventually become, but being an entrepreneur since that time always looked like my idea of "comfort zone".
What problems did you face?
I started my own company somewhere in JAN 2014, by the name Inkcadre Technosoft Pvt Ltd. We were 4 partners or let's just say I was their 4 th partner. Owing to some disputes within 10 months of our engagement they kicked this 4 th partner out. Blessing in disguise, immense amount of strength, knowledge and courage, that this time I started a proprietary company by the name "Capermint Technologies" and since then this journey has been like a dream come true.
How does it feel to have set up such an amazing organisation?
It feels amazing. Of course it feels great to see your dream shaping up into a real thing. I was a decent student during my engineering career. I used to see all those toppers working day in and day out for scoring a single more mark during their exams I had never thought someday I would be setting up a company as huge as employing 50+ engineers. Today some of those toppers are applying in my company for roles which sometimes does not even seem relevant to their education. We as an organisation have served 300+ clients from across 17 different countries and I have roamed approximately 11 new geographies that I had only seen in either desktop wallpapers or dreams. It feels great when people start admiring your work and see the potential you always had. I feel I and my organisation have grown simultaneously into becoming a teenager, but there is still a long way to go. Amazing is still to come.
Who was your role model and why?
Just like most entrepreneurs I also admire Steve Jobs a lot. Especially his quotes where he used to tell that "Design is not the way an app looks but design is the way the app operates" His emphasis on design has made me learn that giving products to your clients which work amazing and look amazing too. I have changed my working models reading his stories, and realised that we always had the potential of producing amazing things, unfortunately our working models were the bottle necks
And then I also admire Jack Ma a lot. Jack ma has taught me 2 things,
Never back down. Reading his story you realise that he failed multiple times, yet stood up every time into becoming an even better human. With God's grace I have yet never been broken down so badly that I cannot get up, but I have faced my bad times and I feel it was stories of people like Jack Ma that kept telling me that I can stand up again. Especially when my 6 partners were standing against me, it seemed like I was stranded on an island alone, where no help reaches, I need to make my own boat and reach back to where I had come from, and at that point saying from people like jack ma made a huge impact in my life
 Treat your employees well and they will keep the clients happy. When you are in the service industry, your employees are your main USP. You yourself cannot go and talk to each and every client at every point, and hence keeping your employees happy was my main task. We have repaired a lot of HR practices, and now our spends on keeping employees happy has gone up compared to all previous years, but from that I have realised that my business has grown only by keeping these people in my core team super happy.
Any advice to young professionals thinking of having their own startups?
So I have 2 kinds of advices for entrepreneurs trying to build their own boat a. For people in the product industry – Believe in your product and believe in your capability to sell it. If a product is solving a problem, it will eventually be accepted in market. Wait for your chance, wait for the product to reach mass amongst the niche that you have created and you would definitely be successful. But before you make this product in which you tremendously believe, research, research hard, research deep make sure you have analysed that people actually need that product that you are making. Once the research is in place, make the most fantastic product and believe in it b. For Entrepreneurs in Service industry – Start trusting your workforce, the moment you raise doubts on your workforce, you are creating trust issues within your own team. Imagine you are the captain of the Indian team; you have set the field correctly, now you have to trust your bowler to bowl at the right lengths. Similarly, you got the client in, you worked to set things up for the client and your team, no you have to trust your team to deliver what is expected from them.
Where do you think Capermint and this IT industry in India is going?
As I already mentioned Capermint has just become a teenager, there is still a long and fulfilling journey to go. As an organisation we have targeted that by 2020 we would be picking up large enterprise projects. We would be developing our inner core strengths for it, and working towards talking more about what we have done. I feel the Indian IT industry has grown and it is still going to grow. There are still many problems that technology needs to solve. And Indians are the best IT problem solvers. But lately there have been a lot of small entrepreneurs who have started offering their services at such cheap costs that they themselves end up making losses. These IT companies usually don't end up completing the project or either harasses the client to pay more after the contract. Hence lately I have observed that the image of Indian IT industry is getting distorted as being cheaters or people who harass their clients. This needs to stop immediately.