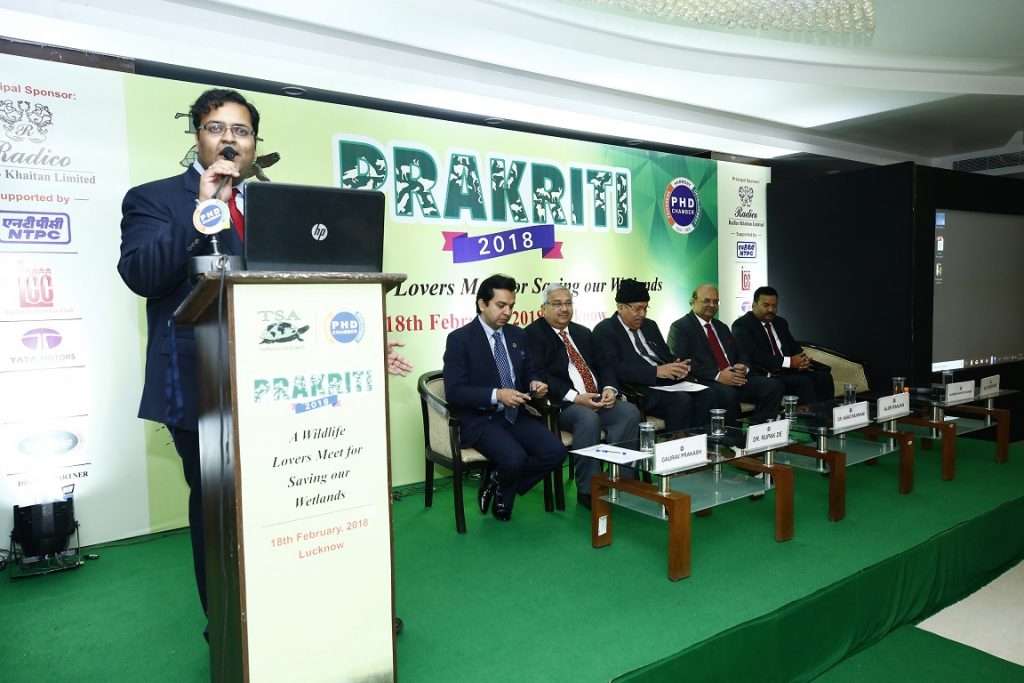 Lucknow: 18-2-2018 – PHD Chamber of Commerce & Industry, UP in association with the Turtle Survival Alliance organized "Prakriti – A wildlife lovers meet for saving our wetlands". The event witnessed participation from the UP Forest Department, Irrigation Department and award winning international experts on wetlands. Wildlife lovers from across the state congregrated in large numbers on 18th February'18 at Hotel GenXCasaya Inn, Gomti Nagar, Lucknow. The highlight of the event was the launch of 'Adopt a Wetland Programme' in which hundreds of nature loving citizens comitted their time and resources for the cause conserving wetlands by signing up and adopting a wetland.  'Adopt a Wetland Programme' will involve teams of nature lovers gathering at wetlands in and around lucknow on alternate sundays and participating in their cleaning and maintenance as well as documenting their biodiversity in order to develop them as eco toursim destinations for their long term sustainability.
The Ministry of Environment, Forests and climate change has identified a staggering 1.2 Lakh wetlands in Uttar Pradesh covering an area of 12.5 Lakh hectares. UP is home to 14 Bird Sanctuaries and 25 Important Birding Areas (IBAs), which are essentially freshwater swamps. The state bird of Uttar Pradesh is the magnificent Sarus Crane and the state animal is the Swamp Deer, both of which are wetland species . Sadly the wetlands are being threatened due to industrial and residential developments and hence an urgent need to focus on this issue has arisen.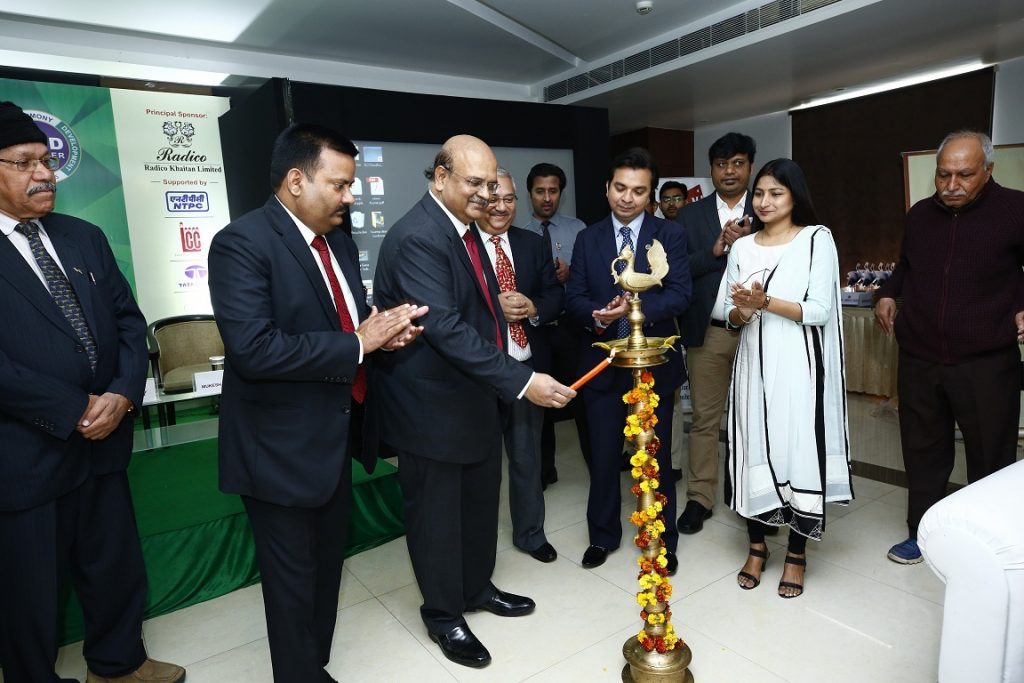 Prakriti 2018 also displayed a photo exhibition on 'Wildlife of Wetlands' organised by the Lucknow Camera Club. Mr Anil Risal Singh, one of the founder members of Lucknow camera club explained that exhibition features a collection of more than sixty photos of rare birds and animals from major wetlands of UP like the Lakh Bahosi Bird Sanctuary, Sandi Bird Sanctuary, Dudhwa National Park as well as world famous wetlands like the Mangalajodi wetlands of Odisha.
The Inaugural session of the event was opened with the welcome address by the Co-Chairman of PHD Camber of Commerce and Industry, Mr Gaurav Prakash. In his speech, he urged the people to treat mother nature with the same love and respect with which we treat their own mothers, for both are life givers.  The other Co-Chair of PHD Chamber Mr Mukesh Bahadur Singh spoke about the activities of the PHD Chamber of Commerce and demonstrated its long term committment to saving wetlands by showcasing that PHD Chamber of Commerce has already adopted a wetland for a year in Dalmau area of Rae Bareli district.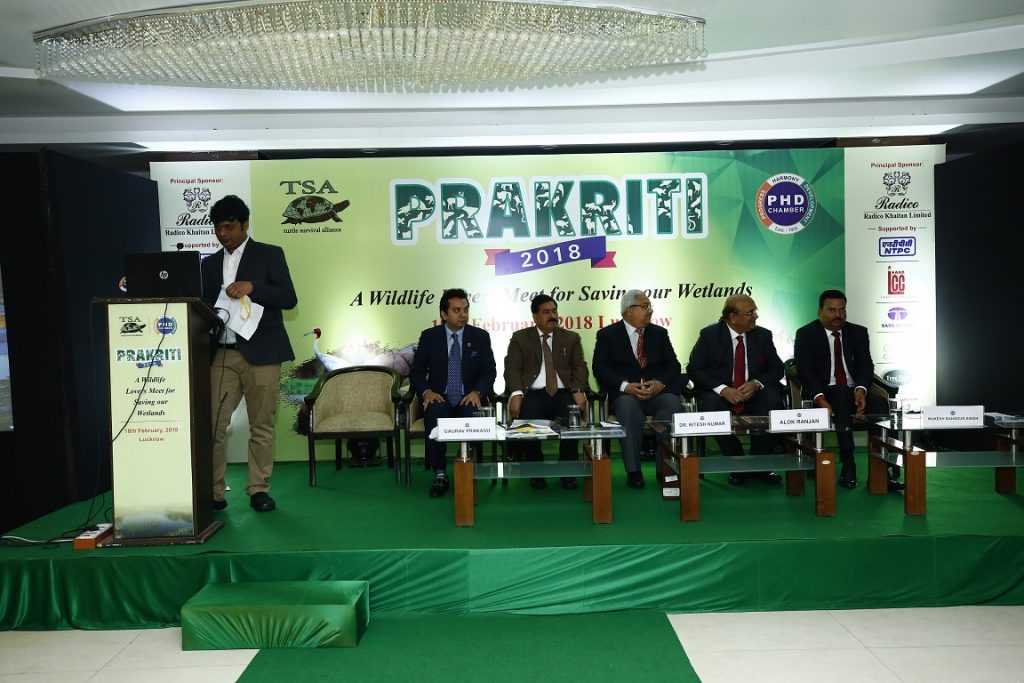 Mr. Shikhar Ranjan, who conceptualised and created the event, set the theme for the event. In his speech he highlighted the urgent need to conserve the fast disappearing wetlands of Uttar Pradesh which are under threat from encroachment, silting, weed infestation and pollution and  urged everyone to register themselves to adopt a wetland. The 'Adopt a Wetland' programme was formally launched by Dr Asad Rahmani, an authority on wildlife with a career in conservation spanning 40 years across 25 countries. Dr Rahmani gave a message to the nature lovers that nature belongs to every citizen and hence it is everyone's moral responsibilty to give back to nature.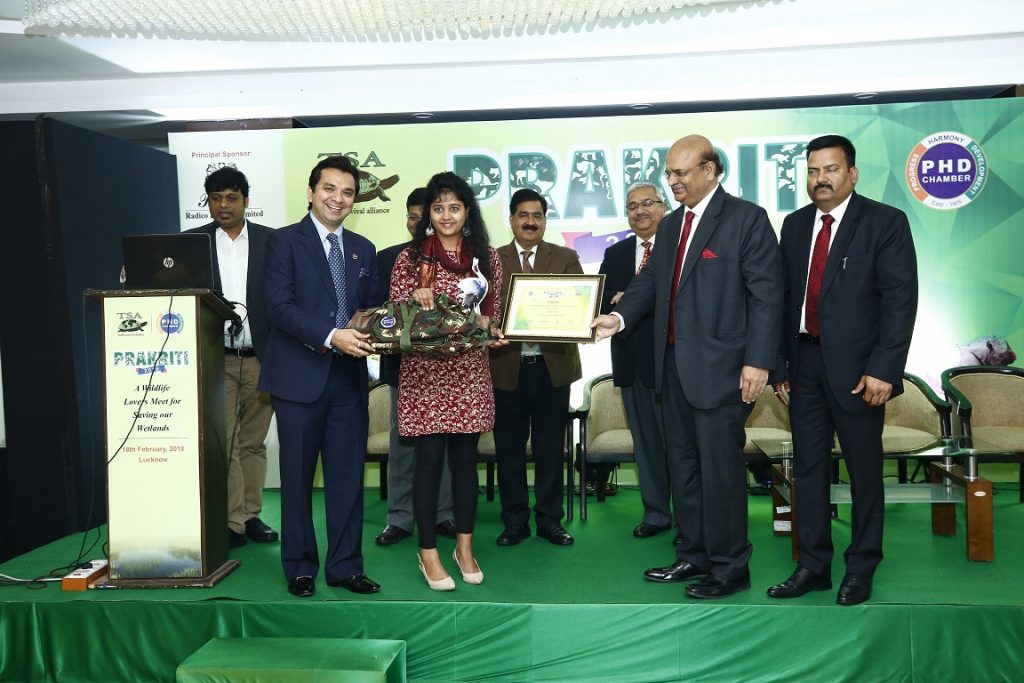 The inaugural session was chaired by Mr Alok Ranjan, ex chief secretary, Govt of UP who also serves as an advisor to the PHD Chamber pf Commerce. The first expert speaker was Prof Brij Gopal, an aquatic ecologist of international repute who  stressed on the average city dweller's link with wetlands, how our religion, culture, food habits and way of life is inextricably linked to wetlands. He was followed by Dr Ritesh Kumar, Director of Wetlands International South Asia who  made a case for conserving urban wetlands and water bodies since they act as important pollution sinks, provide natural drainage of excess water to prevent flooding and recharge the groundwater reservoirs.  Mr Sanjay Kumar, IAS shared his learnings as a district collector In preserving wetlands.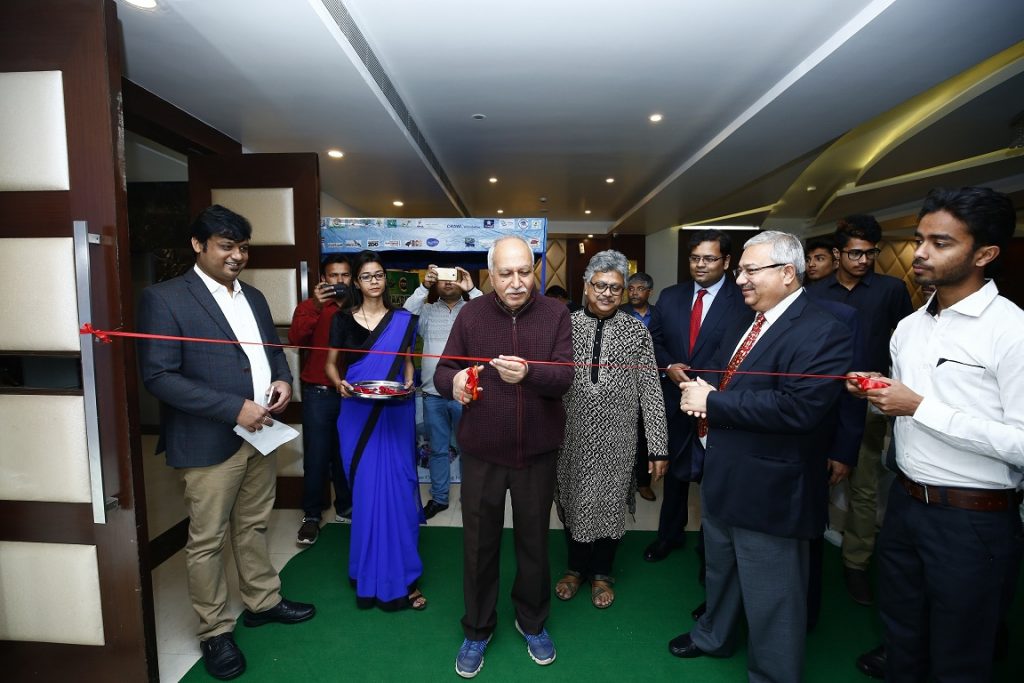 The Co-Chair of PHD Camber of Commerce and Industry Mr Mukesh Bahadur and other Co- Chair Mr Gaurav Prakash, Shri SK Upadhyay, Principal Chief Conservator of forests, UP Dr Rupak De, Principal Chief Conservator of Forests, UP, gave away 'Prakriti Ratna' awards to twelve candidates from both forest dept and civil citizens who have worked for wetland and wildlife conservation at ground level. The awardees from forest dept were Shailendra Pal Singh (forest guard at Patna Bird Sanctuary), Avadh Bihari ( RO Soor Sarovar Bird Sanctuary), Rama Shankar Yadav ( Forester Kachua Sanctuary), Yashwant ( RFO Lakh Bahosi Bird Sanctuary), Suresh Pal Singh ( Dy RFO Lakh Bahosi Bird Sanctuary), Karan Singh ( employee, Lakh Bahosi Bird Sanctuary), Abu Arshad ( RO, Sandi Bird Sanctuary). The awardees from civil citizens were Arshad Hussain ( for Sarus Conservation), Arunima Singh ( for Turtle Conservation), Subodh Nandan ( for Wetland Conservation), Jitendra Patel ( for Dolphin Conservation) and special award to Mr Rajiv Chauhan (for his lifetime of work in conserving wetlands).  Dr Rupak De, Principal Chief Conservator of Forests, UP highlighted the major steps taken by the govt in identification of smaller wetlands and their effective conservation.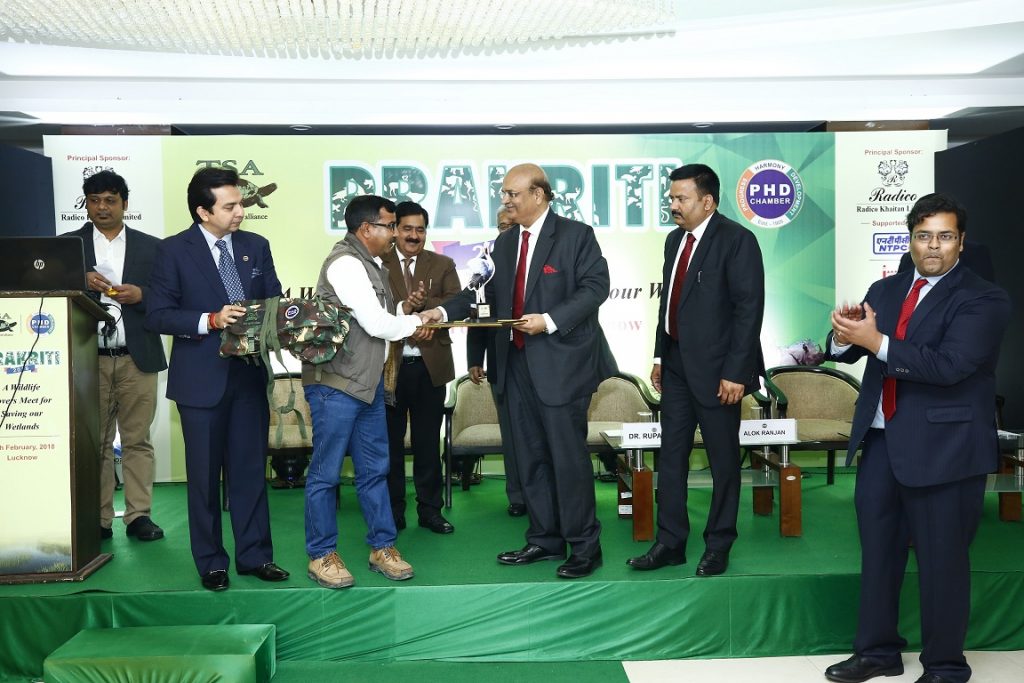 The second session on Wetland Wildlife was chaired by Shri SK Upadhyay, Principal Chief Conservator of forests, UP – Wildlife. The first speaker was renowned herpetologist Dr BC Choudhury who brought our attention to the shrinking habitat of the Gharial which has rendered them critically endangered. He was followed by Dr Bivash Pandav who urged us to broaden the concept of wetlands to include the huge marshy habitat of Terai. The Terai is home to many magical species like the Great Indian One Horned Rhinoceros, Asain Elephant, Swamp Deer, Hog Deer and even suppport a large population of Tigers for which urgent interventions are requirred for their long term survival. The final speaker for the session was Dr Rathin Barman,  Director , Wildlife Trust of India's Kaziranga-Manas Landscape. Dr Barman talked about his famous project Dol Horina , where he supervised the translocation of swamp deer from Kaziranga National park in Assam to establish a second home for them in Manas National Park. Mr Barman also gave invaluable advise on what can be done to preserve the isolated populations of swamp deer at Dudhwa.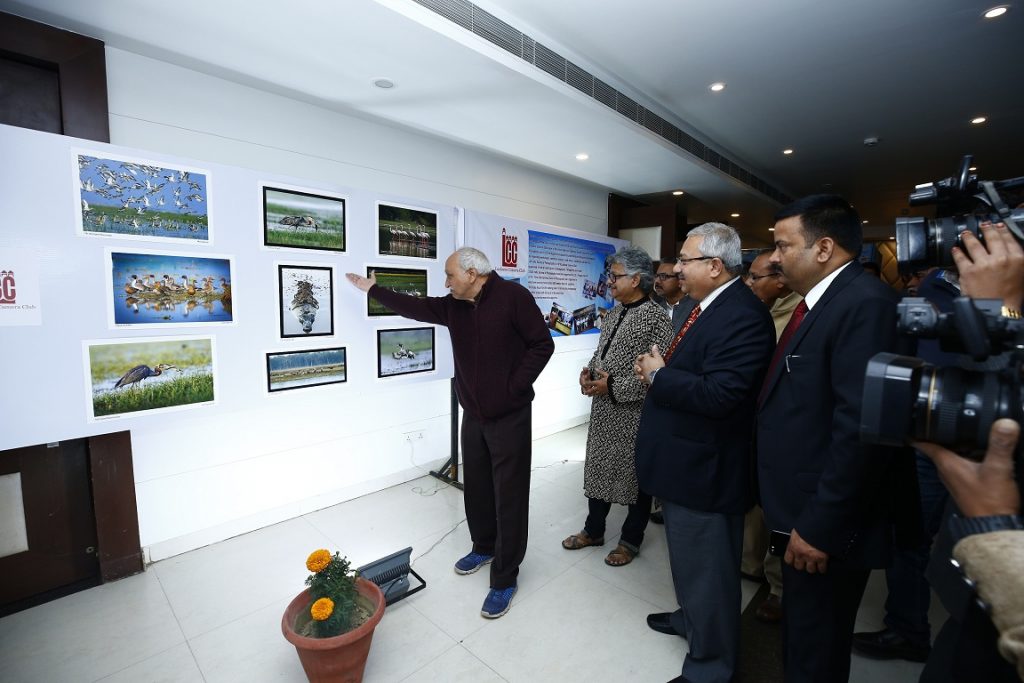 The sessions were followed by a Panel Discussion on conservation of urban and smaller wetlands chaired by Dr Asad Rahmani.  Sri Shailendra Singh, the Country Program Director of Turtle Survivial Alliance set the theme for the panel discussion and invited open participation from the general public. Many members of the enthusiastic crowd shared their experiences in wetland conservation and gave suggestions which were debated in earnest by the panel. The event came to a close with the closing address delivered by Dr Rupak De, Principal Chief Conservator of Forests, UP. He summed up the key messages given in the speeches earlier about how preserving wetlands will not only save wildlife, but ultimately save humanity as our very existence is dependant on a healthy ecosystem for which wetlands are essential.