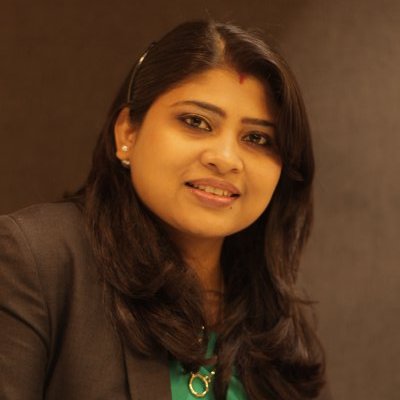 Vrushali Pradhan, is a Sales and HR head of one of the leading technology startup in Bangalore "Bizydale Nets" which has out of box products like Autoconnect and Trip and Howl.

She has overall 10 years of experience in automotive sales and support and a record of selling 25 Volkswagen cars in a single month. Her specialties are Sales, Business development, Client relations, Project implementation, Support, Administration, Training, Hiring and staffing.
About Bizydale
Bizy Dale Networking Services PVT LTD (referred as "Bizydale Nets") is a business value focused IT product and services company with a mission to simplify all complex business processes and become the one stop solution for business and the world through technology.
What or who has been your greatest influence in business and why?
Ans: My greatest influence in business is my life and business partner Satyajeet Pradhan as he is the best deal maker I have come across. His putting of words, way of convincing, turning the deal in his favor, his strategy on vision accomplishment etc. is something that one could be swayed. He has been mentoring me in business and has learnt a lot.
What would you say is your greatest professional accomplishment to date?
Ans: I never measure my professional accomplishments by greatest or smallest. Every accomplishment of mine is important and has come with sheer hard work that in turn played key roles in taking my venture to next level.
What's the best advice you have received in business that you wish to pass on to our readers?
Ans: You have not lost until your mind says it.
What has been the most effective marketing initiatives or programs you have used to promote your business?
Ans: This was for trip n howl where we targeted to connect with college students/youngsters/newly married couples who loves adventures and go on frequent trips and we promoted our app on the colleges by giving case studies, Facebook groups and other social media pages with maximum members. This was an instant hit and we were able to generate 15K+ installations in 1 month.
Are there any resources or tools you'd like to share with other small business owners that have helped you run your business? If yes, please describe.
Ans: More than tools it is the attitude that runs your business. If you are determined to make it a success then no power could stop you achieving it and your business would run automatically. Tools are just medium to get the output, however, right output depends on your idea and strategy
Do you have any new projects coming up (or have you just completed a big project ~ reached a milestone, etc.)? If so, please tell us about it.
Ans: We are in the last stage of finalizing deals with one of the world's largest automotive brand and 2 hospitals. For trip n howl we have received a benchmark recently of 15000 installations in 30 days. We are also targeting close to 500 partners listing on first year.
What do you do for fun/relaxation?
Ans: I go on a dinner date or on a long drive with hubby, or have an in house party with friends coming over.
What's the best way for the readers of Fashion Herald Magazine to connect with you?

Ans: Guys, You could connect with me on my instagram (vrushali.pradhan5) and linkedin.