4th June 2017, Jaipur: Food lovers of the pink city get a tinge of black and blue.  Coffee Culture opened its gates in the royal city of Rajasthan with a bang. A huge crowd awaited the opening of the outlet. The latest addition in Malaviya Nagar, Jaipur was inaugurated by Health Minister Mr. Kalicharan Saraf followed by opening for it's first 300 customers with special offers. The event continued till evening with guests being entertained by LIVE BAND & DJ performing its mixes and other fun filled activities carried out by the anchor.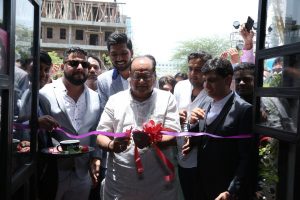 Coffee Culture connects with local culture wherever it opens – here too they have lived upto the expectation by giving the city of palace – a quirky palace elements. The Restaufe is imperially designed keeping in mind the royal heritage of the city. The look and feel has a quintessence of the Jaipur culture. It is designed on the theme of 'Industrial palace' with a large lounge which gives a magnificent feel as one enters. The ambience and the team of the Restaufe treats one with royalty. Coffee Culture Jaipur seats 125 with different levels of space – café area, mezzanine seating to disconnect & have coffees and conversations at peace – & a party hall of upto 50 pax capacity for multipurpose use like Kitty Parties, Birthday Parties, Get Togethers, Business Meetings, Etc. Its 4000 sqft double height space with exposed bricks & palatial feel with plush loungers. There is a wide variety of delicacies where one can binge on without guilt.
Here as they say unculture yourself, let yourself dive into this royal culture and binge on some Hot Favourite – Maggi Sizzler or Paneer Bhurji Thin Crust Pizza or Their Legendary Mexican Burgers and immerse yourself in sinful chocolate shakes or their yummy Nuttela Crisp Rolls. Get ready to experience their wide-ranging menu which is a mix of Mexican, Italian and American food with Local Twist and for coffee lovers there is a wide range of coffee varieties. A must try is Go Go Go Shots!!!

 

 "Every Coffee Culture comes with a story & The idea is to come up with something which has a local connect with the city. Jaipur being "city of palace",  we decided to follow the Palatial theme. Hence we came up with this fusion idea of an industrial palace to create a connect with our target audience. At Coffee Culture Jaipur one can do work and play both. From having formal meetings to just hanging out with friends and family it's apt for every occasion." – said Gaurave Naarang, Founder Coffee Culture.

[tabs slidertype="top tabs"] [tabcontainer] [tabtext]About Coffee Culture[/tabtext] [/tabcontainer] [tabcontent] [tab]

"Coffee Culture" is the brain child of Director Mr Gaurave Naarang & he has nurtured the brand with his passion and vision. An idea of developing a Coffee brand with a unique café experience came in year 2003. It took almost a year of work to come up with his first outlet of "Coffee Culture" in Surat and it was warmly welcomed by the city. Coffee Culture as we call it is a ristorante lounge.

It is more of a lifestyle & community centre. Coffee Culture is known for its lounge setup with huge offering of Delectable/Fusion Cuisines. From hot coffees to sizzling food, its lively ambience is the most loved place for youth in daytime and families during evenings. None of the outlets are similar to each other apart from branding. Coffee Culture cafes are community cafes always connect the look & feel of the store with local attributes or culture of the place. Like Vadodara being an art city it is an art gallery café wherein artists of any sorts can display their stuff on sales. In the city of Palaces – Jaipur, there is an ambiance of Palace with Industrial feel. The vision of Coffee Culture is to have 100+ outlets by the end of year 2020 with a strong national presence.

It has won the "Emerging Café Chain of the year Award 2017." The main motto of the brand is to give more then expected to its customers.

About Gaurave Naarang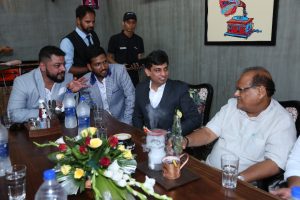 Gaurave Naarang is a multifaceted entrepreneur with a demonstrated history of working in the food & beverages industry and a 13 years of experience of owned Café Chain – Coffee Culture, Restaurant Consultant to around 25 plus startups & Owned Luxury Catering Business by the name of Kitchen Kulture. Gaurave Naarang is an expert Restaurant Startup Consultant. Right from Ideation to Adultery whatever it takes to start a great restaurant we do it! Unlike other consultants we don't give just Manpower Consultancy Or Kitchen Consultancy – We believe in covering all the verticals of a startup and ensuring great conceptual restaurants based on varied formats.
We ensure deepest details in identifying the right location, understanding the target audience, creating distinctive concepts, creating the right financial projections as per the concept & clients budget, monitoring & advice on the brand design strategy & campaigns, monitoring & advising on the interior design concepts, helping in creating right kitchen & workflow as per the cuisine & chefs requisition, hiring right chef, help in hiring the team, menu creation, food trials, menu engineering & then menu finalisation, Team Training, Mock Runs, Grand Launch, Mentoring the Restaurant Owner & The Team to finally operate the restaurant to its highest standards.
They have a solution to all your needs to enter into this lucrative industry and doing a complete set up. In a nutshell, their program includes all consulting time from concept to launch. Creating Awesome Restaurants, From Pin to Piano, they take up Restaurant Set Ups from the idea to the plate. Some of the Restaurants set up are: Coffee Culture The Ristorante Lounge – (Own Cafe Lounge Chain) Global Local – Pure Veg Progressive Cuisine Restaurant World Platter – Pure Veg World Cuisine Restaurant, Go China – Chinese Quick Service Restaurant, YOYO Bakery – Premium Frozen Yogurt & Patisserie ere[/tab] [/tabcontent] [/tabs]